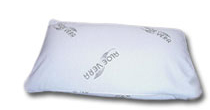 Pillow
This unique pillow uses micro beads which conform to your head/neck. Feel the revitalizing and energizing effects of Aloe Vera coated fabric.
The fabric is a new line of stretch and bielastic construction that offers a high level of comfort. The fabric is durable, hypoallergenic, and machine washable, "air dry".
Get one for yourself and one as a great gift for someone special. They will thank you for the unique and thoughtful gesture.
European Standard Size (27 x 17 x 5)
$65.00
(includes shipping and handling in the 48 contiguous United States)